Location
In the summer 2010, Kyle decided it was time to move his office out of his Ukrainian Village apartment and into proper studio space, and he cannot overstate the productivity benefits of being more than 20 feet away from his bed, TV, and fridge.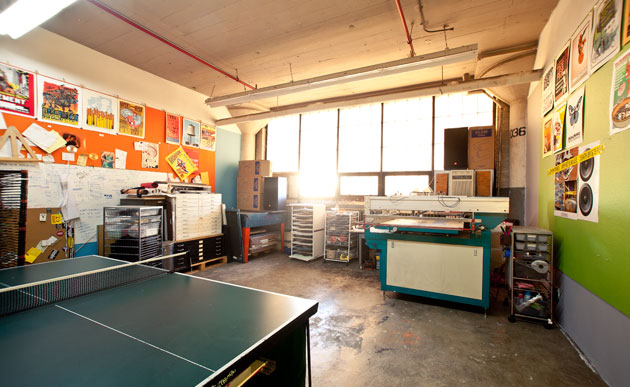 Now Baker Prints' print and design studio is located in an factory/warehouse building in the Northcenter neighborhood, right across the hall from venerable gig poster printmaking institution Screwball Press (this was no accident) and a unit away from the Chicago Independent Radio Project (aka CHiRP Radio).

The first two floors of 4045 Rockwell are in operation by the owning company, essentially a bindery, while the third floor has been subdivided into several units for lease to a seemingly random collection of entrepreneurs, artists, musicians, and, representing a slim majority, screenprinters who don't make tee shirts (veteran gig poster artists and fellow Screwball alum Dan Grzeca and Kathleen Judge are here too).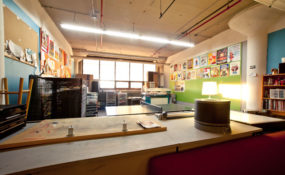 It's a pretty cool place, though that's not necessarily why Kyle is often here for 16 hours stretches. Speaking of which, did you know you can have a free half-hour consultation if you travel to the studio?
Organizational affiliations
Kyle is proud to be an accredited professional of the American Poster Institute (API), an officer of the Chicago Printers Guild (CPG), and captain of the Honeybears at the Happy Village table tennis league.
Work History
Kyle has never been fired from a job, freelance or otherwise, and he's been earning his own comic book money since he was 12. His work ethic is so strong you'll find it quite easy to take advantage of him.
Self-employed creative pro since 2008. Graphic + web designer, in house at medium sized business, 2005 – 2008. Pizza delivery guy, summer 2005. Open source CMS user-guide writer, Q1 2005 (practicum). General assistant in real estate videography start-up, summer 2004. Director of advertising, small real estate group, 2002 – 2003. Custodian for suburban school district, summers 2002 + 2003. Pizza delivery guy, summer 2001. Stock room clerk, summer 2000. Movie theatre peon, winter + summer 1999. Greasy pizza joint dishwasher, winter + summer 1998. Lawn-mower and babysitter, 1995 and up.
Education
Attended Bradley University on full academic scholarship. BS in Psychology, minors in Business Management and Professional Writing. Graduated magna cum laude, with honors, on Dean's List every semester.
Authored + illustrated regrettable comic strip for student newspaper.
Only played hooky on gorgeous spring days to play frisbee golf in beautiful Laura Bradley Park.