I am tremendously excited to be one of 101 artists in the pages of Gig Posters Volume Two, and humbled to appear alongside so many awesome poster artists for whom I am not qualified to mix ink, especially my fellow Chicago poster geeks.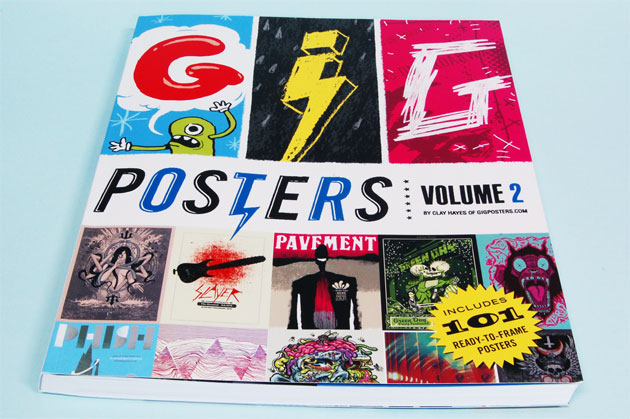 Here's most of the publisher's description:
Since 2001, Gigposters.com has been the Internet's premier resource for rock-show poster art; the site's massive online database showcases more than 100,000 posters from 10,000 different designers, including all of today's top poster studios. Gig Posters Volume 2 highlights 700-plus masterpieces from the archives, including 101 perforated and ready-to-frame posters for acts like Cee Lo Green, Crystal Castles, Vampire Weekend, Wilco, Arcade Fire, and more.
And here's their blurb for Clay:
Clay Hayes is the founder and proprietor of Gigposters.com. He lives in Alberta, Canada. His first book, Gig Posters Volume I, received praise from The New York Times Book Review, ReadyMade, Spin, Maxim, GQ, Nylon, and Alternative Press.
Volume 2 is identical in format to Volume 1: There are 101 poster studios/individuals featured in alphabetical order, and each gets two pages. One poster from each fills a page, and on the reverse of that page are a half-dozen or so (smaller) posters as well as edited remarks from an interview. You can see my pages side-by-side below (through a bit of Photo trickery I made it look like one spread rather than post two photos):
I bought Gig Posters Volume One a few months after I learned how to screen print. I had a few other rock poster books* but GPV1 was the first that really blew me away.
The format is unique in a few ways in addition to being rigidly equitable for all featured artists. Aside from a very short intro by Clay, there are no editorializing authors — just the artists themselves — which is a departure from the historical/cultural textbook that others tend to read like. So you end up getting more diverse and often deeper insight, which to me seems ideal for a contemporary look at the subculture.
Best and most surprising of all are the 101 full-color, full-page posters printed beautifully — no other book I've seen comes close to so many full-page reproductions! Isn't that ridiculous?
*In addition to the Gig Posters volumes, my poster book collection currently includes The Art of Rock, The Art of Modern Rock, The Art of the Fillmore: 1966-1971, Sex, Rock & Optical Illusions, Animals and Objects in and out of Water, Modern Dog: 20 Years of Rock Posters (not canine related), New Masters of Poster Design, Film Posters of the 50s, Posters of World War Two