Identity / Logo
Communicating the unique bespoke quality of their product was a top priority in designing the identity. The handwritten "me" does this in an intuitive way without being in your face.
Colors were chosen thoughtfully. They bolster 'natural' and 'fresh' without deviating too far from the original branding. The orange is energetic and can be an appealing color for the appetite when matched with other colors appropriately. The brown is natural and earthy and also serves to "calm" the vivid orange.
Packaging
The packaging design project was challenging. There were two final designs to create; one for retail point-of-sale purposes and another for the custom-made bars. They were tricky in part because each kind of packaging required space for text and graphics printed in a secondary print-run after the main template has been printed, and a relatively high margin of registration error (i.e. printing the last layer where you want it) had to be respected.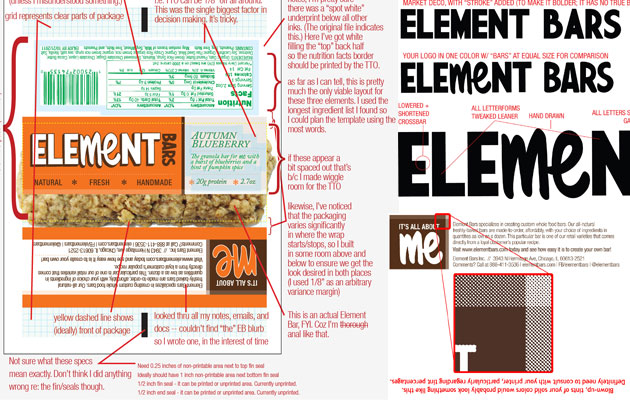 All told the project was a great success. My client was highly receptive and responsive, and together we navigated to a destination that all stakeholders have been very pleased with. I am no expert on packaging design, but in giving the brand a fresh new look I was also able to apply my knowledge of printmaking fundamentals to ensure the final result was spot-on (as well as save my client significant money compared to the previous design).
Oh, and these bars are delicious! I must've eaten fifty while working on Element Bars' rebranding… luckily they didn't dock my invoice.