"The Windy City", created in collaboration with my father Terry Baker, is a painstakingly-crafted illustration of Chicago icons and architecture being playfully blown away. The effort, from start to finish, was easily the largest art project either of us have ever undertaken. It was an amazing experience—though we're in no hurry for the next—and the result is something far greater than either of us could have created on our own. The art is available for purchase as a limited-edition 36″ x 24″ 16-color serigraph (i.e. silkscreen/screenprint) as well as a smaller open-edition Giclée.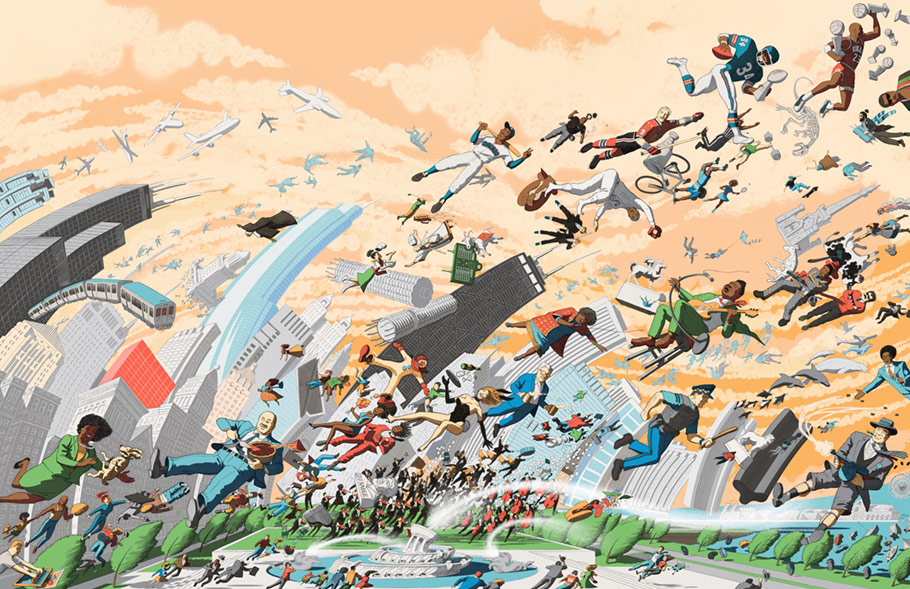 Windy City Purchase Options
The Windy City Giclée

Size: 24" x 16.25"

A smaller format edition of The Windy City art, printed with our top-of-the-line Epson on premium 100% cotton rag paper, Hot Press Natural. A warm smooth surface very similar to the serigraph cover stock. Features extremely high color gamut and density.

The Windy City Serigraph

Size: 36" x 24"

The full-size, vibrant, 16-color, limited-edition screenprint. Only 456 prints were made and less than 200 remain as of August 2014. Individually signed, numbered, and titled. Printed on supple Cougar 100# cover stock in creamy natural white.

Framed Serigraph

Size: 39" x 27"

The serigraph print pre-framed for you. Smartly done-up by our friends at April 7s Custom Framing. Features 2.5" black wood frame with no matting, UV glass and acid-free backing. Pick up only! Available at Baker Prints studio (4045 N Rockwell St, 60618 - must arrange pick-up time).
Relative Sizes of prints

Jargon
In case there are some terms above you are unfamiliar with, here are some quick explanations. Serigraph = an artistic screenprint, as distinct from industrial applications; Limited-edition = we destroyed the production films and stencils after printing—and we'll never print this art in the same combination of method, colors and format again. Giclée = the modern standard for fine-art reproduction (professional inkjet-print on fancy art paper). UV glass = filters ultraviolet light to resist fading from sunlight exposure.
Shipping
All orders will ship via FedEx, rolled and packaged into rigid kraft tubes. Serigraphs will be shipped in 4-inch diameter tubes; Giclée prints in 3-inch diameter tubes. FedEx Ground (commercial addresses) and FedEx Home Delivery (residential) are the default shipping method (on your checkout screen'FedEx Ground' counts for both). As long as we have a single order, packages will ship out daily up until Christmas Eve—but be sure to check FedEx's holiday schedule before you select a service type! And note that Ground and Home Delivery never operate on the weekends.